This night was an experience of a life time hanging with two of my inspirations one of course is my mom (Grace Edwards) yes the fashion designer and her friend Zelda Kaplan whom is a New York City Icon in the club scene. Zelda is 91 years old full of energy and just a very nice lady that gets into all the high end clubs. We started at Socilista a cuban influenced lounge and restaurant. Very nice atmosphere and the food is alright with a lounge upstairs that they let a select few in with a big and small (midget) doorman choosing who goes in. They let us upstairs. Now the dj booth was mad small and he was just playing some randomness no blending of course but hey it pleased the small crowd that was at the bar. Mind you this is on a weekday, very good time to go out and meet REAL New Yorkers!!
After Socialista we hopped to Lotus where there was a line and we got right in thanks to Zelda where the door people once again knew and greeted her and me and my moms as well. Lotus was having a crazy event for L magazine an award show for best of in New York alot of different people of the nightlife all in one place from very Gay to all the night people lol I was just imagining that one day L magazine will award Nicole Nelche, Erin, and Peggy Louis, for the dope parties. Maybe next one lol
Got to meet a few of my moms (interesting) friends who are in the fashion industry. Richie Rich and Andre.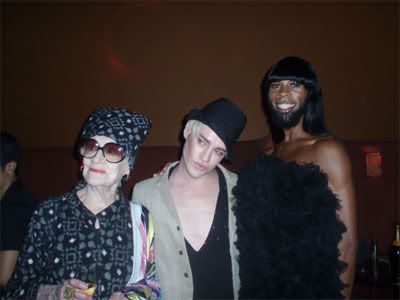 Oh yeah shout out to Justine D who won an award for L magazine, she was not there to accept the award.
So after a few drinks we took a cab to Rose Bar another High end spot thats hard to get into unless your known or an icon lol Nice spot with a fire place once again so dude in a small booth playing randomness to the younger rich crowd, you can just tell.The young rich crowd reminds me of international school with everyone from all parts of the world chillin out in little groups. It was comfy and once again cheers!!
Last but not least Bungalo 8 dont ask me why this club is high end, I guess its the people that go there. Sorry no pics were allowed in the club, I dunno how I felt about this place and why I was not so amazed. I guess the bouncer that yelled at my mom ruined it for me, I was giving him the death look but yeah what goes around comes around some dude will yell at his mom and then what!!! But my mom and Zelda were tipsy mind you I had white wine and champagne all night..
I did have a good time when talking to Zelda about the differences on night life now and then she said back then it was all about live music and love now its that BOOM BOOM too much bass and agressiveness...Interesting...
I want to thank my mom for giving me this experience.
joey