I remember the first time I went to a Nicole Nelch party at Table 50, I was so amazed of the people she attracts and all the DJ's she worked with from Pete Rock, DJ Scratch, DJ Evil Dee, Rich Medina, Dj Spinna, Geology, Waajeed, DJ Center, The Root Down NYC, DJ Dusk(RIP), Grandmaster Flash, J-Rocc, Peanut Butter Wolf, Bobitto, and the list goes on!! Amazing partys at Table 50 and a chance to meet the one of the sweetest party producer and she also DJ's and does film.Someone everybody should meet in thier lifetime and experience any events she has planned in NYC or LA so here it is enjoy....
1. Name your favorite party you have organized in New York and LA.
Also what has inspired you to create these parties?
NYC: Bringing the Los Angeles Root Down to New York was longtime dream of mine and the inspiration for most of my parties. This dream was realized while I was working at Table 50. My friend, Ari Issler, introduced me to DJ Center and we both shared a love for the unpretentious, music & dancing driven vibe of the Root Down, the collective of DJs, live art, live performances. Center became the NYC Root Down resident DJ and from December 2005 – August 2006 DJ DUSK (R.I.P.) and Music Man Miles (Breakestra) flew out once a month to bring the Root Down flavor to Table 50 alongside DJs such as Afrika Bambaataa, Large Professor, Pete Rock, Grandmaster Flash, JROCC, J Boogie, NuMark, and Kool DJ Red Alert. We had artists such as James Blagden & Upendo Taylor rock live art. Crazy Legs of Rock Steady Crew was a regular and the party had a undeniable vibe. It was a joy to hear everything from hip hop to cumbia, roots, soul, jazz. This past May we brought it back for a one off with Kenny Dope. We're not done!
LA: Hmm…I'd have to say the ArtDon'tSleep jumpoff with Diamond D. (Although I didn't really produce many events in LA). It was a trip picking up Diamond D from the airport. Then the CDJs at the venue were whack and he ended up using my records! What?! I was bugging. I am so inspired by parties in Los Angeles. The sense of community and forward movement is powerful. I'm inspired by the music coming out of Los Angeles, The Gaslamp Killer, Pablo Like Picasso, Flying Lotus, Sound in Color, Stones Throw, some of my favorite parties are there – Root Down, Firecracker, ArtDon'tSleep, Low End Theory, The Do-Over. Los Angeles is FRESH! Also last year's re:unite party in Baldwin Hills was the bomb!
What pops up in your head when I mention the name Table 50?
Lawdamercy! Table 50 was an incredible moment. I'm flooded with memories and I'm very grateful for my experiences there. I just remember the first time I walked in there and I was like, "Oh yeahhhhh". The place itself was a character, nahmean?
Name 4 DJ's you like working with?
I have more than four…The one and only DJ DUSK (R.I.P.), Large Professor, Stimulus, DJ Center, Peanut Butter Wolf, Just Blaze, JROCC, Red Alert, Waajeed, Koushik, Mahssa, Duane, Shakey, Bill Sharp, Akalepse, Expo, Lindsey. There's a few more I'd like to work with…
4. Where did your name Saucey come from?
It was circa 1999. I was working a second job at Coffee Plantation in Tempe, Arizona. My co-worker and stromie, artist, Frankie Gonzales (www.frankgonzales.com) was washing the windows, looked at me and with tinfoil on his teeth he called me "Sssssssaucey!" (ala the scene in Wayne's World when Wayne buys the stratocaster). I had just moved back to Arizona from Chicago and I was definitely Saucey. It stuck.
Name 5 records that make your day?
Ghostface's "Pretty Toney" is making my day right now.
Stevie Wonder's "Music of My Mind"
Frank Sinatra "Live at the Sands"
Slum Village "Fantastic Vol. 1"
Madlib's Motown Stones Throw podcast
6. What film projects have you done and what's next as far as film?
The first film I worked on was Stephen Frears "High Fidelity". I was an extra, the only scene you can see me in is the diner scene with Lili Taylor & John Cusack. That experience affirmed/confirmed I wanted to be a filmmaker. Stephen Frears was so dope. Everyone was. I made a bunch of student films at Scottsdale Community College and NYU Tisch. Earned an Associate Producer credit on the award winning "Hip Hop Project Documentary" and worked as Nelson George's Assistant on the HBO film "Life Support". Right now I'm working on my own screenplay.
7. How did you get into promoting parties?
Accidentally! It's a long story. In 1999, inspired by DJs Radar & Z-Trip, I started documenting West Coast underground hip hop parties in Arizona, Los Angeles and San Francisco. It was an incredible journey and along the way I met DJ Shadow, Cut Chemist, JROCC, NuMark, Marvski and more. While at NYU Film School I started thinking of how I could cut my footage together and tell a story. I needed an internship to graduate and saw an ad for an internship at Table 50, it seemed like my music and DJ knowledge would work well there, but I ended up interning at Turntable Lab instead. Then Table 50 came back around. I started working there around when I graduated from NYU in 2004. Turntable Lab's Blu Jemz brought by Mark Ronson and Q-Tip to check out Table 50. I had known Q-Tip for a while and it felt right for us to start "Authentic Shit" Thursday nights at Table 50 in June 2005. I was a novice to promoting club parties. It took about a year to realize I was actually becoming a promoter.
Can you describe the difference between life in NY and life in LA?
I can get pretty claustrophobic in New York, Los Angeles, you can see the sky differently, the aesthetic beauty of the mountains, ocean, beach the weather I really dig it. New York it's easier to be nonstop and not really be getting shit done, it's so easy to hop on the train and make moves around the city. Los Angeles, you get to drive and pump music real loud and good in your car. You get your own space there, not rammed like on a subway fighting for your own space all the time. They are each so different but I really love both. I was bi-coastal for almost a year and it did me well. Now, I'm finding a renewed love for New York that I moved to Washington Heights. It's fucking beautiful up here. Fort Tryon park is the shit! Uptown baby! I love my family of friends in New York and Los Angeles and feel equally comfortable in each. Lotsa love.
What is next for you????
My screenplay!
How do you know Joey Too Fresh??
The one and only great Joey Too Fresh I had the pleasure of meeting at Table 50. He came thru regularly to Leaving This Planet with Rich Medina & Bobbito, Root Down, and came around to other parties at Movida, Canal Room….Always good vibes, smiling, dancing & feelin it! Where has he been?! I haven't seen him in a minute!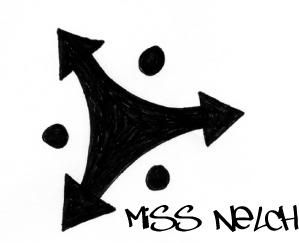 http://www.myspace.com/nicolenelch
joey